What is ZOOM Teeth Whitening?
Zoom teeth whitening is the process of bleaching teeth. It quickly lightens teeth enamel and dentine from the effects of discoloration. The dentist recommends regular teeth cleaning before the actual zoom teeth whitening treatment. Additionally, the whole process takes about one hour.  Tooth discoloration may be caused by the following:
Drinking tea and coffee

Habitual Smoking which discolors teeth

Taking certain medications for a long time

Certain diseases

Inadequate brushing and flossing

Aging may stain and darken teeth

Consumption of fluoride in large amounts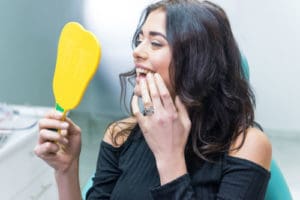 ZOOM Teeth Whitening Procedure
The teeth whitening procedure start with lips and gums being safely covered to ensure only the teeth are exposed to the light. To keep the oral cavity open, cheek retractors and cotton balls are placed inside the mouth. Next, the dentist applies zoom whitening gel with hydrogen peroxide, which when combined with zoom light, it works to infiltrate the teeth and clear the discoloration and stains. The gel stays in the teeth for about 15 minutes as the stimulation of the light takes place. The whitening gel is used for three sessions of 15 minutes of the stimulating light and the whole process will take 45 minutes. Then, a fluoride paste gel that reduces sensitivity is applied to the teeth. Moreover, teeth whitening results are quicker since they can be achieved over the shortest period of time as opposed to over-the-counter products.
Zoom light produces minimal heat during treatment which may cause tooth sensitivity or little pain in some people during the procedure. Patients with strong gag reflex may not be able to complete the procedure because they may find the procedure uncomfortable. Also, the dentist can determine if zoom teeth whitening is the right option for the patient after performing a thorough oral examination.
In general, Zoom whitening treatment is not recommended for children below thirteen years old, pregnant and breastfeeding mothers. Also, Zoom teeth whitening is recommended to patients whose teeth are discolored as a result of using antibiotics for a long time. In fact, patients with regular yellow or brown tooth discoloration can find it useful to use zoom whitening techniques to make their teeth cleaner and whiter.
Teeth Whitening Maintenance
-After the procedure, the dentist gives a zoom home use kit that comprises of custom fitted whitening trays with instructions on how and when to use the kit.
-The dentist may recommend avoidance of food and beverages that may cause staining 
-The patient is advised to maintain adequate dental hygiene habits.
-Also, the dentist will advise toothpaste containing whitening agents to maintain the outcomes of the procedure.
-In addition, regular dental visits for scheduled dental cleaning are important and maintaining proper oral hygiene help prevent stains
Learn More About ZOOM Teeth Whitening
Our dental offices offer teeth whitening. Learn more by scheduling a consultation today. In fact, we are located throughout Massachusetts and Connecticut. Simply find the closest location below and book online. We look forward to meeting you.
Massachusetts
Connecticut